Hijran Huseynova, Chairwoman of the State Committee for Family, Woman and Child Problems met with Belarus Ambassador to Azerbaijan Nikolay Pastkevich, the State Committee said.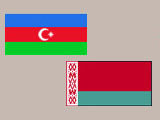 The latter stressed the need to enhance the bilateral cooperation between the two countries, including economic ties. He highlighted the good relations in humanitarian and cultural areas, as well as activity of Azerbaijani Diaspora in Belarus. The diplomat highly valued the reforms being implemented in Azerbaijan, great success in the construction of schools, and praised the tolerance in the Azerbaijan society.
Mrs. Huseynova, in her turn, gave detailed information on the Committee's activity and stressed the need to develop even more the ties between the two countries. She stated that after Azerbaijan President Ilham Aliyev's official visit to Belarus, a favorable condition for development of the bilateral cooperation was created between the two states.
The sides shared views on other issues of mutual concern. AzerTAg