Republic of Azerbaijan marks the 15th anniversary since the proclamation of independence Wednesday.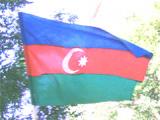 It was proclaimed by the Constitutional Act on State Sovereignty, which the parliament of the then Soviet Azerbaijan passed October 18, 1991.
There will be no official celebrations of the event, an Azerbaijani government source told Itar-Tass, although the goverment made Independence Day a national holiday and a day off many years ago.
Popular festivities dedicated to the occasion will be held in the National Park located on Baku's picturesque embankment.
This year's holiday is special for the fact that it coincides with the three years since President Ilham Aliyev's election to the office.
He said in a recent in interview he sees the task of the day in setting up "a state with a modernized economy and political system."
"The fact that we achieved considerable success along this direction in the past three years evokes in me a feeling of satisfaction and pride for the cause that my father, Heydar Aliyev, embarked on," the President said. "We carry it on successfully today."
/www.tass.ru/