Turkish Prime Minister Tayyip Erdogan was taken to hospital on Tuesday after fainting while keeping the Muslim fast of Ramadan, but doctors said there was no need for concern.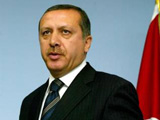 Erdogan, 52, who has dominated Turkish politics since becoming prime minister in 2003, was suffering from low blood sugar and was over-tired, they said.
"There is no need to worry. His vital functions are normal. His blood sugar level fell owing to his fast and to extreme tiredness," said Tevfik Ali Kucukbas, head doctor at Ankara's Guven Hospital, in televised remarks.
"We want to keep him under observation for a while."
Turkish financial markets shrugged off the news.
Erdogan had been due to address members of his ruling centre-right AK Party in parliament. The meeting was canceled.
"He has been working very hard in the last few days," Deputy Prime Minister Abdulatif Sener told reporters, adding that he expected Erdogan to be discharged from hospital on Tuesday.
Television showed pictures of Erdogan, fully dressed, speaking with doctors in the hospital.
A senior AK Party lawmaker, Dengir Mir Mehmet Firat, said Erdogan had fallen ill while sitting in his limousine. His bodyguard and driver had been forced to smash a window of the vehicle after its doors locked automatically with Erdogan inside and apparently incapacitated, Firat said.
Erdogan, a former professional soccer player, is physically fit and follows an active regime. In the past few weeks alone, he has visited the United States, Britain and Saudi Arabia.
A pious Muslim, he fasts during the holy month of Ramadan which ends next weekend.
Analysts said the incident, while apparently minor, did raise the question of who might replace Erdogan if he were seriously incapacitated.
"We would think the impact would be fairly severe, as Erdogan's political skill and strength of character have been key in building up the current AK Party administration and holding the party together," said Tim Ash, an emerging markets expert at Bear Stearns International in London.
"A power struggle within the AK Party would be likely, and this could also strain relations with the secular establishment," he said in an investment note.
Erdogan, who has roots in political Islam, is distrusted by Turkey's powerful secularist elite, which includes army generals. They fear he wants to increase the role of religion and perhaps run for the presidency in elections due next year.
Opinion polls show Erdogan, a charismatic former mayor of Istanbul, is by far the most popular politician in Turkey. The party's number two, Foreign Minister Abdullah Gul, might struggle to maintain party unity, analysts say.
Erdogan was briefly admitted to hospital in April after suffering a muscular spasm.
Turkey's parliament, where the AK Party has a big majority, will choose a successor to President Ahmet Necdet Sezer in May.
Turkish voters will elect a new parliament in November 2007. The AK Party is tipped to win the largest number of seats. Reuters