"YAP always supported the dialogue and we declare again the dialogue is more useful than standoff. Unfortunately, while speaking of dialogue, the members of some opposition parties try to use it to get political dividend," Ali Ahmadov, the YAP deputy chief and Secretary General told journalists.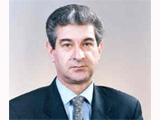 Ahmadov says that the parties put forward their intention to get benefit, APA reports.
"As soon as the dialogue problem is brought to the focus some opposition representatives put forward the problem of the government's compromises to the opposition parties," he said.
Ahmadov also said that the opposition parties want some concessions in the talks, but do not want to clarify what concession they are.
"If we sit around the same table we should make concession or sign some document and these documents should be fulfilled. It is the result of incorrect approach to dialogue problem," Ahmadov said.