French leader Jacques Chirac has told Turkish Prime Minister Tayyip Erdogan he is sorry French lawmakers approved a bill making it a crime to deny Armenians were victims of "genocide" at the hands of Ottoman Turks.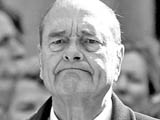 "Chirac called me and told me he was sorry and he said that he is listening to our statements and he thinks we are right and he will do what he can in the upcoming process," he told his AK Party, in broadcast comments, during a dinner on Saturday.
France is home to Europe's largest Armenian diaspora.
Turkey denies any genocide, saying the Armenians were victims of a partisan war that also claimed many Muslim Turkish lives. Turkey accuses Armenians of carrying out massacres while siding with invading Russian troops during World War One.
The French president's office did not comment when contacted about Chirac's call to Erdogan on Saturday morning.
Erdogan, facing a rise in nationalism ahead of next year's parliamentary elections, warned on Friday that Ankara was considering retaliatory measures against France.
Foreign Minister Abdullah Gul repeated the government's call for France to scrap the bill, which has complicated Turkey's European Union accession bid.
"We are worried. Turkish-French relations have been very deeply wounded. I hope that French politicians and statesmen will see this and will take the necessary measure to prevent further damage to France's credibility," Gul told reporters.
French businesses fear the bill will have repercussions for their business in Turkey, a fast-growing market which imported 4.7 billion euros' worth of French goods in 2005.
About 100 people protested outside the French consulate in Istanbul on Sunday, throwing eggs at the building.
Immediately after Thursday's vote, the French Foreign Ministry said it did not support the lower house bill, calling it "unnecessary and untimely" and indicating it might never become law as it still needed to be ratified by both the upper house Senate and French president.
France is believed to be home to the largest Armenian immigrant community in western Europe, with up to half a million people of Armenian descent living there.
They make up a powerful political lobby which cannot be overlooked just seven months ahead of a presidential election.
However, some Turks think French politicians have a broader agenda and are using the bill to try to block Ankara's EU bid.
Chirac and the two leading candidates to replace him in polls due next May -- Nicolas Sarkozy and Segolene Royal -- all say Ankara must accept the genocide before joining the bloc.
The European Commission has said that recognition of the genocide was not a precondition for Turkey entering the EU. Reuters