Azeri FM Elmar Mammadyarov expects that during a meeting with Armenian FM Vartan Oskanian the parties will have an opportunity to find common points in most complicated matters of settlement of the Nagorno Karabakh conflict.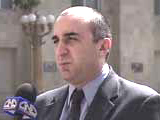 "Within that context the meeting in Moscow was useful. Though, when proceeding to details, unexpectedly one finds out that there are many problems. I am not going to be too optimistic, at the same time I want to assess the situation realistically. New elements appeared, as well as a new field for work over these," Mammadyarov remarked.
Answering the question "why these 'common points' were absent before," the Azeri FM said, "A poignant search for opportunities is underway. It is necessary to find a fragile balance to make positions closer. Given polar, opposite viewpoints, it is very hard and laborious to reduce these to a common opinion, taking into account how sensitive is the NK issue both for us and Armenia. Within this context of course our task is to work for making positions closer. It is hard to say whether we will succeed or not. I do not want and, maybe, I cannot look far forward. However, in principle it is undoubted that we have that desire. Now everything is so subtle that I would not speak of a break," Azeri FM said.
/PanARMENIAN.Net/