Central Election Commission has not received any complaints about local elections held on Friday.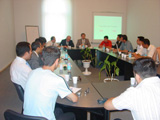 CEC secretary Natig Mammadov told APA that the CEC representatives didn't meet any irregularities while observing voting process and counting.
He said every voter is entitled to send a complaint within three days and the complaints will immediately be examined.
"According to the Election Code, the CEC will examine and process documents and make a final decision within 20 days. The final results will be confirmed within the ten-day period after this process."
He also said unlike presidential or parliamentary elections, the results are confirmed by the CEC in local elections.