Azerbaijan President Ilham Aliyev's visit to Latvia is ongoing.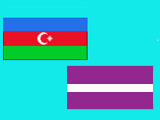 Azerbaijan-Latvia Business Forum was held with the participation of 60 businessmen from the two countries.
Latvian president Viera Vike- Freiberga recalled her first visit to Azerbaijan and said there were some proposals on the projects of mutual interest. She noted that the visit of Azerbaijani president will stimulate the realization of these projects.
Speaking about the economy of her country, she said light industry plays a leading role.
Azerbaijan President spoke about the recent economic reforms in the country.
"Azerbaijan has favorable climate for foreign investment. The country establishes economic relations with EU member-states. Latvia as a member of the EU may play an important role in the promotion of these relations," he said.
Then Ilham Aliyev met with Riga Mayor and Azerbaijani community after the business forum, APA reports.