OSCE Minsk group co-chairs met with Armenian Foreign Minister Vardan Oskanyan yesterday.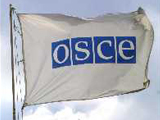 They agreed on Azerbaijani and Armenian Foreign Ministers meeting in Moscow on October 6, OSCE MG Russian Co-Chair Yuri Merzlyakov said in press conference in Yerevan, APA reports.
French co-chair Bernar Fasie said the meeting of the presidents is possible only after the Foreign Ministers' meeting.
Armenian mass media claims the co-chairs denied their statements made in Azerbaijan. While in Azerbaijan, Bernar Fasie said that the format of the negotiations cannot be changed. In Yerevan he said he made no statement on Nagorno Karabakh negotiations in Baku.
The co-chairs did not make public the details of the negotiations in Yerevan. French co-chair said the principles of the negotiations have not been changed in past two years.
Commenting on Azerbaijan President Ilham Aliyev's statements they said military solution of Nagorno Karabakh conflict is impossible.
"Azerbaijan President can say anything he wants. We will not comment on his statement."
The co-chairs said the solution plan was approved by G8 summit in Washington, Paris and Moscow, but Azerbaijanis and Armenians are not ready to live together.
Bernar Fasie said the solution of the conflict is out of the question if the two nations are not ready to live together in peace. The co-chairs will hold meeting in Khankendi today.