On Tuesday, October 3, President Ilham Aliyev starts an official visit to Latvia.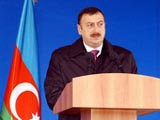 During the visit, six documents and a joint declaration will be signed between the two countries to establish and enhance relations in different fields.
Kamran Mammadzadeh, counsellor of Azerbaijani Embassy in Latvia told the APA, President will meet with Latvia's President Ms.Vaira Vike-Freiberga. During his two-day stay in Latvia, President Aliyev will deliver a speech at the Latvian State University.
The meeting will also be attended by heads of diplomatic corps, MPs, Latvian representatives at the European Parliament.
Latvia-Azerbaijan business forum will be held in the last day of the visit. Several documents are expected to be signed during the forum.