Armenian Armed Forces violated ceasefire 32 times in the third quarter of the year and totally 192 times during nine months of the year.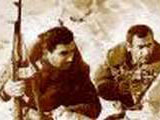 According to monitoring results by Defense Ministry Azerbaijan Armed Forces lost 13 soldiers in July-September. The army lost 46 servicemen and one civilian and 15 were wounded in the nine months of the year, APA reports.
Armenian Armed Forces fired at Azerbaijan's positions 10 times in January, 14 in February, 50 in March, 65 in April, 10 in May, 11 in June, eight in July, 19 in August and eight in September. The ceasefire was recorded most in April and least in September.
The most fired territories are Gazakh, Tarter, Aghdam and Fuzuli regions.
According to the results of the monitoring one was killed in mine explosion, four in fire, one for act out of regulation, seven for careless use of gun, two of drowning, 10 in car accident, four in suicide, two in snow-slip, two of disease, one for strike by lightning and 12 by the enemy. Seven of the killed servicemen are officers, three ensigns and one sergeant. The rest are soldiers. Twenty of them killed outside the battlefield.
Azerbaijan Armed Forces lost 11 servicemen in January, two in February, five in March, six in April, three in May, five in June, seven in July, five in August and two in September. Three of them served in Border Troops, one in Interior Troops, one in State Special Defense Service and the rest in Defense Ministry's military units. Nine of the wounded servicemen were fired by the enemy, two for careless use of gun, two in mine explosion and two in car accident.