Eight members of Iranian parliament protested against insulting of a mosque in Nagorno Karabakh province of Azerbaijan.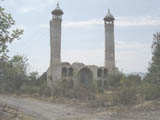 Iranian parliamentarians wrote to the Foreign Ministry demanding the government to express an official protest to this issue, APA reports.
Iranian "Cumhuriyy Islam" newspaper wrote that Armenians are using a historical mosque in occupied Azerbaijani city of Agdam as stable.