Azerbaijan Constitutional Court chief Farhad Abdullayev received Russian ambassador to Azerbaijan Vasili Istratov yesterday.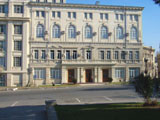 Abdullayev informed the ambassador about Azerbaijan's juridical system. Mr. Abdullayev highly appreciated the cooperation of two states in juridical sphere, APA reports.
He also presented an official invitation letter addressed to Russian Constitutional Court for participation in the conference organized in partnership with the Council of Europe Venice Commission.