Armenian families, who have been transferred to Armenian-occupied Azerbaijani territories, are leaving the region collectively.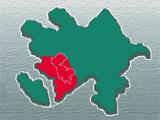 The settled Lachin corridor faces demographic danger today. According to official report, great majority of Armenians transferred to the occupied Azerbaijani region of Lachin are refugees and IDPs, APA reports.
However, in fact it is not like that. The new settlers are families transferred from Armenian cities of Yerevan, Sisyan, Jermuk, Gumru and from Garabagh. They were promised to be supplied with lands, cattle and social privileges.
Deputy Armenian governor of the region G.Kosakyan admitting that different persons, including Armenian job seekers have arrived in Lachin.
Armenian official sources say that 9,800 Armenians are living in the 3 000 sq.km area ("Kashatag region") that includes Lachin with 68, 000 Azerbaijani population once and also Zangilan and Gubadli regions. They say 2,200 of these Armenians have been transferred to Lachin, which is renamed as Berdzor by Armenians.
However, unofficial sources stress this figure is very small. Poor living condition, transference of the region's budget to the separatist regime made the colonists leave the region. There were 15,000 Armenians in Lachin in 2002, according to the invador's reports, there remained 5,000 or 6,000 Armenians in 2006.
The stimulating promise such as provision of the settlers with electricity free of charge for the first two years was not kept. The money allocated for the building of new houses has been "embezzled". The colonists also fear that Azerbaijan will start war.
"First Armenian settlers were more enthusiastic. But now they are leaving the region with the same enthusiasm. They become to panic when they heard Armenian Defense Minister Serge Sarkisyan's televised speech saying My people, you know Agdam is not our city. Do you want a new war?," said S.Kocharyan, director of the school for Lachin colonists.
Many find comfort by the international community's promise that there is no option by peaceful solution of the conflict.
But S.Kocharyan does not believe this and asks a rhetorical question, "What do they think of the width of Lachin corridor?"