The next meeting for establishment of GUAM (Georgia, Ukraine, Azerbaijan, Moldova) peacekeeping forces is expected to be held at level of deputy chairmen of General Staffs by the end of this year.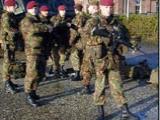 Ukrainian Defense Ministry international relations department told that the meetings for establishing GUAM peacekeepers are held systematically.
The latest meeting was organized in Tbilisi, Georgia, APA reports.
"The next meeting will take place this month either in Baku or Chisinau. The final format of peacekeeping contingent will be determined at the meeting," the department reported.