Thailand's army chief vowed on Wednesday to clean up the country's political landscape and return "power to the people" as soon as possible after a bloodless coup against Prime Minister Thaksin Shinawatra.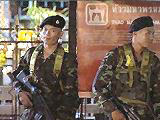 Commander-in-chief General Sonthi Boonyaratglin, who had repeatedly dismissed a coup as a way out of a prolonged political stalemate, took the reins of power late on Tuesday as head of an interim Political Reform Council run by the military.
"I would like to assure that the Council has no intention of running the country by itself and will return power, under the constitutional monarchy, to the people as soon as possible," he said in a national television address on Wednesday morning.

The Thai baht, one of Asia's strongest currencies this year, suffered its biggest fall in three years within hours of tanks surrounding Government House. Fitch Ratings and Standard & Poor's put Thailand's credit rating on review for possible downgrades.
The stock market was closed on the orders of the coup leaders, who declared a national holiday on Wednesday to help maintain calm in the southeast Asian nation.
Commercial banks and some businesses were shuttered in Bangkok, and foreign car manufacturers such as Japan's Nissan Motor Co, one of hundreds of investors in Thailand's export-driven economy, said they had halted operations for a day.
However, the city remained calm and quiet, with Bangkok's notorious traffic jams alleviated by the holiday announcement.
On Tuesday evening as soldiers took up positions on street corners throughout Bangkok, a coup spokesman said Thaksin had been ousted to resolve a near year-long political deadlock and to stop "rampant corruption".
Thaksin, who was in New York at the time at the United Nations General Assembly, tried to head off the putsch, phoning a Thai television station to announce a state of emergency.
The transmission stopped after 10 minutes while he was still talking, but his spokesman said the army could not succeed and insisted: "we're in control".
Within hours, however, he canceled the speech he was due to give at the United Nations. A senior Thai official said he and his delegation would leave New York on Tuesday night, but did not say where they were going.

The coup spokesman, retired Lieutenant-General Prapart Sakuntanak, said the army and police were in firm control after
the coup, Thailand's first in 15 years but its 18th since it became a constitutional monarchy in 1932.
Television showed the armed forces chiefs heading in a motorcade to the palace to report to revered King Bhumibol Adulyadej. Such images were likely to dampen any agitation in the countryside, where support for Thaksin is strong.
Documentaries of the king in the countryside promoting development projects were also broadcast on television. That appeared to be aimed at reinforcing the military's insistence it was acting for the good of the country.
Foreign news channels, including CNN and the BBC, were taken off the air.
The coup was condemned by the United States, the European Union, Australia and New Zealand, which all called for a return to democracy.
However its leaders said it had been necessary to resolve the political stalemate that stemmed from a street campaign against telecoms billionaire Thaksin, accusing him of subverting democracy for the good of his family and friends in big business.
Thaksin argued he was democracy's defender against opponents using unconstitutional means.
"Never in Thai history have the people been so divided," coup spokesman Prapart said. "The majority of people had become suspicious of this administration, which is running the country through rampant corruption."
The army told all soldiers to report to base and banned unauthorized troop movements, suggesting the concern that Thaksin loyalists might attempt a counter-coup. However, there were no signs on Wednesday of efforts to resist the military leadership.
After mass street protests against him in Bangkok, Thaksin, winner of two election landslides, called a snap poll in April, hoping his rural following would counter his metropolitan foes.
However, opposition parties argued he had skewed neutral bodies such as the Election Commission in his favor. The opposition boycotted the poll, rendering the result invalid.
Thaksin's Thai Rak Thai (Thais Love Thais) party had been expected to win a re-run tentatively scheduled for late November, increasing pressure on his opponents in the military and the old establishment to remove him by force.
The prolonged crisis has slowed economic growth and hit the stock market as consumer confidence waned.
/Reuters/