President Bush and British Prime Minister Tony Blair on Tuesday urged Azerbaijan to keep on a democratic course as a key pipeline to Western markets from the oil-rich Caspian Sea nation is poised to become fully operational.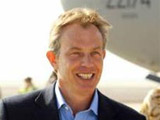 In a message to Azerbaijani President Ilham Aliev, Bush reminded him of their two countries' partnership in energy, democracy and security, discussed during Aliev's recent visit to Washington, the Associated Press reports.
"The United States will continue to work in partnership with you for the promotion of world energy security and the creation of a prosperous, peaceful and democratic future for Azerbaijan's people and this vital region," Bush said.
The message was read out by Deputy Assistant Secretary of State Matthew J. Bryza at the opening of a Caspian oil and gas conference in Baku.
Blair, in a letter to Aliev released by the British Embassy in Baku, said he hoped that Azerbaijan would forge closer ties with Western organizations, including the European Union and NATO, "building a secure future on the basis of common values including democracy, the rule of law and an open economy."
Bush also urged Azerbaijan and oil-rich Kazakhstan to speed up talks on joining the BTC pipeline.
/news.moneycentral.msn.com/