Azerbaijani President Ilham Aliyev has made speech during the Black Sea States Summit.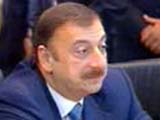 He spoke of regional and economic development of Azerbaijan, said Azerbaijan to be Central Asia joining Europe, Silk Route, dealt with Baku-Tbilisi-Ceyhan Main Export Oil Pipeline projects, APA informs.
President has brought to the forum participants attention that if there were not Nagorno Karabakh problem, state not suffered from extremism, more success could be achieved.
Ilham Aliyev has stated that Nagorno Karabakh conflict must be solved within the international law norms and within the territorial integrity of Azerbaijan: "Territorial integrity of Azerbaijan can not be a matter of talks."
Armenian President Robert Kocharian making a speech before, stated that Nagorno Karabakh Armenians has defined their determination for 15 years. Robert Kocharyan said that Armenia is ready to continue talks on conflict's settlement.