"I know exactly that not only mine but my several other partners' votes were decreased, and the votes for the opposite side were increased during the elections to Musavat party Assembly. I have checked this information, and these facts are true," deputy leader of Musavat party, editor-in-chief of newspaper "Yeni Musavat", Rauf Arifoghlu stated.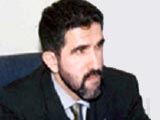 According to APA, he said that he voiced these opinions in the party Assembly. Arifoghlu said some connect this with attempt to fraud and some to tiredness.
"However, after my statements, the opposite side tried to practice these opinions. I read on the newspapers that as if my votes were not decreased but increased. There is no source to confirm this. Anyway, I do not want to speak about it so much. It turned out after the re-count of the votes that 294 party congress members voted for me," he stressed.
Commenting on the reasons why he won less votes in comparison with other deputy party leaders, Arifoghlu said all of the deputy party leaders won less votes than the rest candidates.
"The votes the deputies won are less than even those of passive party members, who attended the party two or three times a year. I think it is natural. Thus, who are active in the party are considered opponents. The elections are upcoming, they will use the tactics of rivals by decreasing the votes the opponents won. I never used this tactics but my opponents used against me.
They think my popularity in society, newspapers information support for me and several other factors make me powerful. Therefore, they are trying to show to both Musavat members and the society that as if I am weak. We were in prison when the congress organizational committee was formed and members were elected. This discrimination against us started when we were in prison. I withdrew my candidacy from the organizational committee protesting against it. It seems my being in prison provided a good chance for some forces. Some of them benefited from the chance of electing their close partners congress members, the results of which were obvious during the congress. In general, the results of elections to the Assembly cannot be indicator of prestige in the party.
For instance, some members, who were elected to the party Assembly with majority of the votes in previous elections, could not access to the Supreme Assembly of the party later on. I must say our opponent succeeded in campaigning against us during the congress. We are trying to restore objectivity," the deputy leader stressed.

Arifoghlu also said that he offered the current deputies not to access to the leadership this time.
"I said on my behalf that I want to be neither Assembly member nor deputy party leader. This cannot be interpreted as stepping back. On the contrary, I want to see new forces in the party leadership. The people remaining outside the process always criticized us. I think these persons should access to the party leadership and bring a new breath to the party activity. I do not want to be a deputy. However, the leader and Arif Hajili insisted on my nominating candidacy to the Assembly membership. A lot of persons insist on my being deputy leader of the party," he said.
Commenting on the report that other deputy party leaders Vurghun Ayyub and Sulhaddin Akhbar claim to be leader after Isa Gambar, Arifoghlu reminded that the opposite side refuted this information. However, he stressed that both of them said they are training successor of Isa Gambar. He also said he supports Isa Gambar's leadership.
"Isa Gambar's reign will not be over. I think our main duty for the next four months is to achieve in Musavat's wining the elections and its leader being the President of the country. I have told that I will nominate my candidacy to Musavat leadership after Isa Gambar is elected President. I am not weaker than any other politician in Azerbaijan except Mr.Gambar. If he leaves the party leadership, I will consider either being an independent politician or make a break for some time. But I am not going to accept any other leader. So I think it is early to claim the party leadership now," Arifoghlu said.