"The Nagorno Karabakh conflict can and should be solved. Reaching peace agreement is the only way to settle the conflict.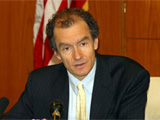 "We have introduced to both presidents our opinions how to improve the peace process," said US Assistant Secretary of State for European and Eurasian Affairs Daniel Fried.
He said reaching an agreement on the solution of the conflict depends on Azerbaijani and Armenian Presidents, APA reports.
"The co-chairs offered a number of ideas to solve the conflict. We have offered these ideas to the leaders as a neutral side, without defending interests of any of them. However, as US representative, I wish that Azerbaijan can restore as more of its lands as possible and refugees come back to their native lands soon. Both parties to the conflict have certain interests. There are different options of solution, we offered the optimal one. Everything depends on the Presidents now. I believe both Presidents are quite serious persons. They are analyzing the ideas we offered. We do not mean to exert pressure on them, as a friend, we intend to help both parties," Mr.Fried said.