At his temporary residence in Bucharest, President of Azerbaijan Ilham Aliyev met on June 4 with former Romanian President, senator Ion Iliescu.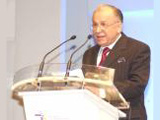 Recalling his official visit to Azerbaijan during his presidency and meetings with national leader Heydar Aliyev and President Ilham Aliyev, Ion Iliesku highlighted high-level cooperation between the two countries and said that today's Azerbaijani leader's visit to Bucharest serve the development of bilateral relations.
President Ilham Aliyev said that Azerbaijan-Romania relations are successfully developing in various areas and expressed confidence that cooperation will continue to expand, AzerTAg reports.