"Azerbaijan will not support military action against Iran, and Washington understands it," Azerbaijani President Ilham Aliyev stated in an interview to French Le Figaro newspaper.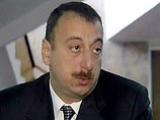 He warned that the whole region may by destabilized in case of military operation.
"We are seriously concerned about the threat, which may be caused by a conflict between the USA and Iran, neighboring with us. It will not be some remote show for us, which we will be able to see on television and to switch off at any moment," Aliyev said.
"We believe that in the current situation settlement of differences should be achieved in a peaceful, diplomatic way and in the atmosphere of good will," the Azerbaijani president stressed.
/Regnum/