Polish Economy Minister Piotr Wozniak was to start his five-day visit to Baku on Wednesday. The goal of the visit is to discuss issues of economic cooperation and energy security with the top Azerbaijani leadership, according to the Polish embassy.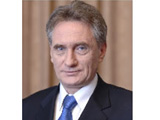 Wozniak, who is accompanied by a 11-people strong delegation comprising high-ranking officials of the Ministry and representatives of the energy sector, is expected to meet with President Ilham Aliyev, Prime Minister Artur Rasizade, Economic Development Minister Heydar Babayev, Deputy Foreign Minister Mahmud Mammadguliyev, and other government officials. Wozniak is also scheduled to visit the Sangachal terminal.
No agreements are due to be signed in conclusion of the talks, AssA-Irada reports.
/AzerNEWS.Net/