The chair of the State Customs Committee (SCC) Aydin Aliyev today received Alexander Farkash, manager of the Euroatlantic expert group on US-GUAM framework program, and Valdas Dovidenas, councilor of the Euroatlantic observations group on transport and trade assistance.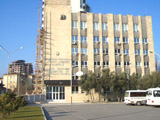 As APA was informed from SCC, Mr.Aliyev highly valued relations and cooperation between the customs services within the framework of GUAM and expressed his confidence that existing cooperation would be further strengthened, volume of trade between the GUAM-participating countries would be increased, and smuggling-fighting would be further reinforced.
It was noted that SCC, having the status of a law-enforcement body since 1997, attached special significance to relations with the customs services both at international and GUAM levels. At present, Azerbaijan successfully continues its cooperation with the GUAM member-states on the basis of bilateral and multilateral agreements, and agreements in the field of customs have already been signed with Ukraine and Georgia. Soon, an analogous agreement is expected to be signed with Moldova as well.
The SCC chair also said that the Committee supported measures implemented for expansion of activity of the Virtual Centre under GUAM. According to Mr.Aliyev, activity of the Virtual Centre fighting terrorism, illegal turnover of drugs and illegal migration is in the interest of the Committee.
Mr.Farkash particularly noted active participation of Azerbaijan in GUAM and said that selection of Azerbaijan for intensification of information exchange between the GUAM-participating states was connected to real activity of the Virtual Centre in the republic.
Mr.Farkash stressed the necessity of establishing pilot connections with other countries' systems through the Centre and noted that mutual cooperation between law-enforcement bodies would help increase efficiency of the general work.