"The US government believes that this year will be a decisive year for settling the Nagorno Karabakh conflict," said US Ambassador to Azerbaijan Reno Harnish.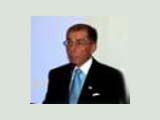 The Ambassador reminded that this stance was uttered by US Assistant Secretary of State for Europe and Eurasia Daniel Fried while on a visit to Baku.
"As a country co-chairing the OSCE Minsk Group, the United States supports the negotiating process between Azerbaijan's and Armenia's Presidents. We will try to further take an active part in this process and prevent the war which leads to death of innocent people," Reno Harnish told APA.