'Our Ukraine' bloc is leading according to the poll results on Ukrainian parliamentary elections in Azerbaijan.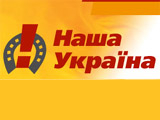 102 voters came at the third foreign polling station of the Ukrainian embassy in Azerbaijan, Ukrainian embassy councellor, Igor Kezim told Trend.
59 of them voted for 'Our Ukraine' bloc, 25 for Region's Party, 8 for Yulia Timoshenko party, 4 for the Ukraine Socialist party and the rest for other blocs and parties.
Polling protocols were sent to the CEC of Ukraine yesterday.