Ballot papers for the rerun of parliamentary elections in Azerbaijan will be ready several days before the Election Day.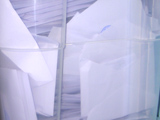 The Central Election Commission (CEC) informed APA that the delay of preparation of ballot papers is due to probability of withdrawal of some candidacies during the election campaign. The ballot papers will be in the same form as in 6 November elections.
The election commissions are specifying voter's lists. These lists will be confirmed in constituencies on 8-10 April when 35 days are left for the re-elections.
The specification of voter's lists will be done on the basis of information provided by relevant executive powers and municipalities and military units.
The lists for polling stations in remote villages will be made more exact at least 25 days before the voting day or two days after precinct election commissions are set up.
According to procedure rules, commander of a military unit, heads of penitentiary wards specify information on voters and make exact lists following the CEC regulations.