"The C? Venice Commission supposes to organize roundtable in Baku soon in relation to the by-elections to the Milli Majlis in Azerbaijan May 13, 2006," Tatyana Myshelova, representative of the Venice Commission Secretariat stated.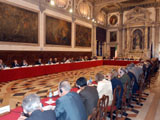 According to Myshelova, the leadership of the Venice Commission approved the action plan on the re-run elections in Azerbaijan, including, the roundtable.
"The forthcoming event will discuss the results of the November 2005 elections, measures necessary for organization of the 13 May 2006 elections under European standards," she stressed.
"The date of the roundtable has not been determined yet. We are ready to hold the event. Everything depends on interested sides. The Venice Commission is at disposal of Azerbaijan," Myshelova stressed.
Finally Myshelova said that decision was made on March 19 after the next plenary session of VC.