US Ambassador to Azerbaijan Reno Harnish's completes his duties.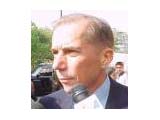 Diplomatic sources told APA that Reno Harnish will leave Azerbaijan in April. It says that he will be appointed to a post in the US Ecology and Ministry and will be engaged in global problems as well as fight against bird flu.
The new US Ambassador is expected to come to Azerbaijan in April, but his name is unknown so far.
Azerbaijani Embassy in the US also confirmed the information and informed APA that Mr. Harnish was considered to return to his own country in spring months.