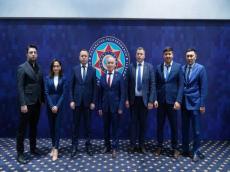 By Azernews
Azerbaijan and Kazakhstan have signed a memorandum of understanding in the field of information security. The document was signed within the framework of a visit to Kazakhstan by a delegation headed by Samir Rasulov, head of the e-security service under the Ministry of Digital Development and Transport, Azernews reports.
The memorandum is aimed at increasing the level of cooperation in the field of information security, especially in the issue of responding to various incidents.
It was noted that through the development of cooperation and mutual efforts, technical and human resources will be combined to identify and eliminate the consequences of computer attacks.