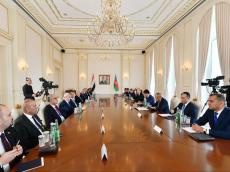 President of the Republic of Azerbaijan Ilham Aliyev has held an expanded meeting with President of the Republic of Iraq Abdullatif Jamal Rashid.
Addressing the meeting, President Ilham Aliyev said:
- Mr. President, distinguished guests, welcome to Azerbaijan once again.
We already had a very good discussion with Mr. President on various issues related to our cooperation and political developments in our regions. We will now continue the discussion of important issues with the participation of delegations. Next month, our delegation will be visiting Iraq to participate in the meeting of the joint economic commission. We have already partially discussed the issues related to our trade, economic and energy agenda.
First of all, we are very happy to welcome Mr. President on an official visit to Azerbaijan. This is a very significant event in the history of our bilateral relations. This is the first official visit of the President of Iraq to Azerbaijan since Azerbaijan became an independent country. I am sure that the visit will produce very good results. Now we will continue the discussion of important issues related to economic and commercial cooperation. I am sure that this will also contribute positively to the good results of the meeting in Baghdad next month. Welcome again, Mr. President.
x x x
President Abdullatif Jamal Rashid said:
- Thank you, Mr. President, it is always nice to see you. It is very good to seek your advice on the strengthening of our relations, trade, political as well as international affairs. We are very determined to further strengthen the relations between our two countries. We look forward to welcoming your delegation next month, and I hope its visit will be very productive. All visits to Azerbaijan are proving effective. Today, our delegations are ready to sign some memorandums of understanding between the two countries.