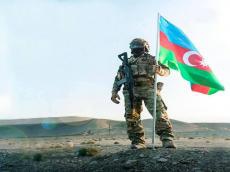 Seven years have passed since Azerbaijan's triumphant military success in the 2016 April battles or the four-day war.
On April 2, 2016, intensive artillery shelling of Azerbaijani frontline positions and settlements by the Armenian armed forces resulted in the killing of six civilians, including two children under the age of 16. Numerous public and private facilities, including civil infrastructure, were severely damaged as a result of the attack.
Thus, the counter-offensive became necessary.
As a result of four-day battles, the Azerbaijani army liberated several strategically important heights and restored control over 2,000 hectares of land. The positions in the direction of Tartar District's Talish village and Sugovushan settlement, Jabrayil District's Lalatapa height and Jojug Marjanli village, as well as Goranboy District's Gulustan village, were cleared of enemy forces. Some 30 Armenian tanks, up to 15 artillery installations and engineering fortifications were subjected to destruction, 320 Armenian soldiers were killed and over 500 enemy soldiers were wounded.
Military operations along the line of contact between the Azerbaijani and Armenian forces ceased on April 5, by agreement of the parties.
The Azerbaijani army's victories in the April battles laid the foundation of Azerbaijani lands' liberation from Armenia's occupation in the 44-day war lasting from late September to early November 2020.