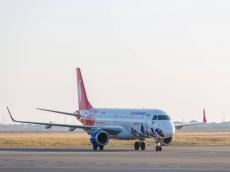 An aircraft operating Buta Airways flight J2 9105 on the Baku-Istanbul route had to land in Ankara due to heavy snowfall, Azernews reports, referring to the press service of Buta Airways.
The plane landed at Esenboga International Airport (Ankara) at 2050 (GMT+4).
The plane will fly to Istanbul as soon as the weather conditions improve.