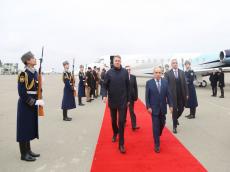 Romanian President Klaus Iohannis has arrived in Azerbaijan's Baku, Azernews reports per the press service of the Romanian president.
Azerbaijan's First Deputy Prime Minister Yagub Eyyubov, Deputy Foreign Minister Khalaf Khalafov and other officials welcomed the guest at the Heydar Aliyev International Airport.
The opening of the Ministerial Meeting of the Advisory Council of the Southern Gas Corridor is scheduled for the visit, which will last till February 3.
Talks on the agreement between the governments of the Republic of Azerbaijan, Georgia, Romania and Hungary on the strategic partnership in the field of green energy development and transport will be in the center of attention.
The Romanian president also plans to discuss the development of bilateral cooperation in areas such as energy, transport, trade, investment, digitalization, agriculture, education and culture.
Azerbaijan and Romania are cooperating in various spheres of the economy. The two countries established diplomatic relations on June 19, 1992. The embassy of Romania in Azerbaijan was opened on November 3, 1998, and the embassy of Azerbaijan in Romania on May 19, 2001.
The trade turnover between the two countries amounted to $215.5 million in 2021, with exports amounting to $120.5 million, and imports to $94.9 million.