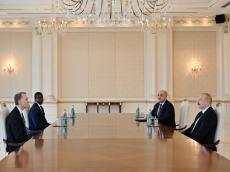 President of Azerbaijan Ilham Aliyev received Bruce Flatt, CEO of one of the world's leading financial companies Brookfield Asset Management.
Emphasizing that Azerbaijan`s achievements are of great interest, Bruce Flatt said that the development processes in Baku made a deep impression on him. He noted the expansion of the successful cooperation of Brookfield Asset Management with the State Oil Fund of the Republic of Azerbaijan, and underlined that his company is proud of its relations with SOFAZ, which operates at a professional level. Bruce Flatt extended his congratulations on Azerbaijan`s achievements, which he described as the country`s big success.
Praising the successful cooperation of the State Oil Fund of Azerbaijan with Brookfield Asset Management, one of the world`s leading alternative asset management companies, President Ilham Aliyev said that there is good potential for expanding relations. Pointing out that the activity of the State Oil Fund of Azerbaijan is constantly expanding, the head of state noted that the Fund`s assets have increased even in the most difficult times, including pandemic, financial crises, and when the price of oil fell.
They also exchanged views on Azerbaijan`s green energy potential and opportunities for the country to become an energy hub in the region.
Founded in 1899, Brookfield Asset Management, headquartered in Canada, is a leading global alternative asset management company with over $750 billion of assets.