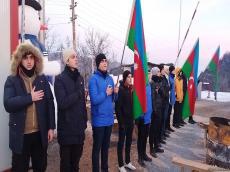 The Azerbaijani Press Council has called on the leading world media outlets to give an objective assessment of the protest of the eco-activists on the Lachin-Khankandi road, Azernews reports.
Expressing hope for objective and impartial coverage of the protests, the council urged foreign media to draw attention to real facts, and not be an instrument of one-sided and biased propaganda.
The statement stressed that the presentation of the peaceful protest by a number of world media causes serious concern among people from all walks of life and Azerbaijani media.
"Such an interpretation of the events is nothing but an attempt to distort reality, an abuse of freedom of speech and expression, bias and non-objectivity by a number of Western media," the statement reads.
The statement added that Karabakh is part of Azerbaijan and the ethnic Armenians in the region are legal citizens of the country.
"Thanks to the financial support of Armenian lobby and diaspora organizations, as well as the puppet 'state minister' of the so-called Karabakh regime, Ruben Vardanyan, some world media outlets, create the impression that the rally of Azerbaijani activists on the Lachin-Khankandi road poses a threat to the right of Karabakh Armenians," the council said.
Further, the message underlined that the image portrayed by Armenia about the alleged humanitarian catastrophe and claims of genocide is entirely false and doesn't reflect reality, as the ongoing protest has a specific goal and it does not in any way create obstacles for the passage of humanitarian convoys.
The council went on to call the western media not to become captives of the Armenian propaganda, but rather treat the situation impartially in the region.
"It is also regrettable that manipulations are allowed consciously or unconsciously by the media, which has an influence on the public opinion of the world and Europe, are ascribed to the pluralism of opinions, and declarations that their activities serve human values. Their articles are practically the same, the biased claims, sometimes even the sentences are also the same," the statement said.
Additionally, the council added that objective media would better investigate the personality of Vardanyan, report on his large financial frauds, his proximity to criminal circles plus illegal and unlawful activities.