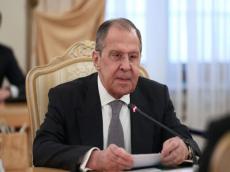 The Russian peacekeeping contingent is looking into Azerbaijan's information about the possible use of the Lachin-Khankandi road by Armenia for mine and weapons transportation into Karabakh, Azernews reports, citing Russian Foreign Minister Sergei Lavrov.
He recalled that according to the agreement of the leaders of Azerbaijan, Armenia, and Russia, the Lachin-Khankandi road should be open for the passage of goods, citizens, and transport means.
"But there should be no military cargo through the road. Azerbaijan has provided data, that is being studied by the Russian peacekeepers, that Armenia has been delivering and placing landmines near Azerbaijan's military positions," he added.
Further, the foreign minister stressed that Armenia disrupted the adoption of the document on sending the mission of the Collective Security Treaty Organization to the border with Azerbaijan.
"We have difficulties related to the current situation in Armenia. When our Armenian friends promoted the need to send a CSTO mission to the border with Azerbaijan in order to ensure some stability there, we agreed on such a document at the summit in Yerevan on the parameters of this mission, but it was not possible to accept it, because the Armenian colleagues began to insist that this document should contain a harsh condemnation of Azerbaijan," Lavrov emphasized.
Talking about the EU mission on the Azerbaijan-Armenia border, the Russian official noted that the mission will be counterproductive without Baku's consent.
"Instead of making the situation on the border more secure, such a mission can be counterproductive if it takes place without the consent of Baku," he pointed out.
He also added that despite the CSTO mission being fully ready, Armenia prefers to negotiate with the EU so that a civilian observer mission can be stationed there on a long-term basis.
"Instead of building trust at the border, it can create additional irritants," he noted.
To recap, the issue of placement of the mission was reflected in the statement adopted on October 7 following the quadripartite meeting of Azerbaijani President Ilham Aliyev with French President Emmanuel Macron, European Council President Charles Michel, and Armenian Prime Minister Nikol Pashinyan in Prague.
The EU and France wanted to create a border monitoring mission that would also operate on the territory of Azerbaijan and use it to enter the region. Azerbaijan objected to this, and after a firm position, it was decided that the mission would operate only on the territory of Armenia. Azerbaijan will cooperate with the mission in accordance with its interests. The border mission will help build confidence and contribute to the border delimitation process.