"The Consultative Council, unifying pro-governmental organizations, regards the newly-formed composition of the Central Election Committee (CEC) as fair," said Mammad Alizade, the chairman of the organization.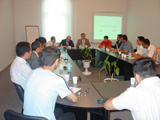 According to Alizade, the decision on full formation of CEC after the 13 May 2006 by-elections to parliament should be welcomed. "It shows that the authorities will take into consideration the results of the by-elections for full formation of election administration," Alizade stressed. He said that similar position testifies the intention of the authorities to hold democratic and fair elections, Trend informs.
He also underlined that the parties, entering the organization, decided to participate in the by-elections. "Candidates from several constituencies have been determined. The members of the Democratic Azerbaijan World Party will nominate candiadates from Sumgayit 2nd constituency 42 and Gadabay constituency 103. Subut Asadov, the chairman of the Republican Party, will ballot from the Sumgayit-Absheron constituency 44. Consultations are held on other constituencies," Alizade said.