"By-elections to the Parlaiment in May will affect positively position and international image of Azerbaijan," said head of the Azerbaijan delegation to the Parlaimentary Assembly of the Council of Europe (PACE) Samed Seyidov.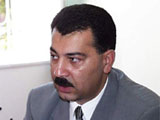 According to him, the Parliament of Azerbaijan set up constructive cooperation with PACE, which president Rene van der Linden responded to the letter of the Azerbaijan Parliament. "The letter contains the request to take into consideration the results of by-elections in forming the Parliament and composition of the Azerbaijan delegation to PACE. Therefore, we were 10, but not 12 at the PACE session, as we await the results of by-elections," he noted.
He also noted, PACE agreed with the reply of Azerbaijan. "There were no claims to us."
In regard to the absence of the oppositional representatives in the Azerbaijan delegation he said, there are oppositionists in the delegation, and their number will increase after by-elections, Trend informs.