Foreign minister Elmar Mammadyarov received the Special Representative of European Union on Azerbaijan Alan Vaddams and newly appointed Ambassador Extraordinary and Plenipotentiary to our country Stepan Volkoveski.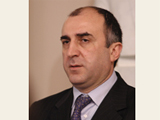 According to the information given from the press service of Foreign Ministry, E.Mammadyarov expressed his confidence to strengthening the relations between EU, noted the significance of integration to European instates for our country, widening of the relations within the frame of European Neighborhood Policy and the Activity Plan prepared by Azerbaijan, APA informs.
In his turn A.Vaddams, stated that during his activity period he will pay special attention to the sphere of developing the relations between Azerbaijan and EU. Besides it, he stressed the matter of opening of the Representation (official representation) of European Commission on Azerbaijan in 2007 to be one of the important issues.
The guest was informed of the Armenian-Azerbaijan conflict, its resolution at the meeting. A.Vaddams has presented the duplicate of his credentials to the minister.
During the meeting with Ukranian Ambassador the latter stressed that he will do his best to develop the relations between the two countries. The minister congratulated the newly appointed Ambassador and wished him success in his activity. He said that, relations between Azerbaijan and Ukraine are of traditional friendship and stressed that, he attaches great importance to all round relations between the two countries. Elmar Mammadyarov informed Ambassador about the negotiations directed to the resolution of Azerbaijan-Armenian conflict.
S.Volkoveski gave information to the minister about the happenings in his country. Other issues of mutual concern were discussed at the meeting.