The Milli Majlis of Azerbaijan will hold an extraordinary session on January 24. The Session will confirm the new Election Commission members.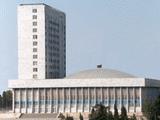 As ANS informs, new Election Commission will include 18 persons. According to the Election Codex, the Commission will be represented by 6 members from the leading at the parliament party (the New Azerbaijan Party), 6 members from the parties, who are in minority at the Milli Majlis, and 6 non-party members. 12 parties, which are due to participate in the new CEC have been sent letters on the issue.
The Milli Majlis of Azerbaijan is on winter vocation since December 30 to March 1.