Presidium of the Supreme Court of Nakhchivan AR held today a meeting where it verified and confirmed results of the elections to the Supreme Majlis of the Autonomous Republic and the Parliament of Azerbaijan.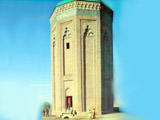 According to the information of the Nakhchivan bureau of APA, the representatives of the Central Election Commission of Nakhchivan AR and State Statistics Committee also participated at the meeting presided by the chairman of the Supreme Court Ramiz Suleymanov.
During the meeting there was announced that 236441 voters were registered in 45 election constituencies and included in voter lists of Nakhchivan AR, however only 137143 of voters or 58 % participated in the elections.
98761 unused ballot papers and 532 ballots for different reasons were destroyed by members of precinct election commissions. Votes of 133771 of 137143 voters or 97,5 % were considered valid. Votes of 3432 voters were considered invalid and this forms 2,5 % of all votes.
The court also noted that there were insignificant violations of the law that did not cause complaints and that is why there is no serious legal reason to nullify the results of the elections in 298 polling stations of the 45 election constituencies.
135 voters who could not find their names in voter lists on the Election Day appealed to courts. 435 proxies of candidates, 725 observers and 325 representatives of political parties observed the voting process and calculation of votes on the Election Day. At the same time, 57 observers from OSCE and Council of Europe, 8 from CIS, and 12 from Great National Majlis of Turkey observed the elections held to the Supreme Majlis of Nakhchivan AR in parallel with the elections to Milli Majlis and gave their positive references on the results of the elections.
At the end of the meeting the Supreme Court of Nakhchivan confirmed results of the November 6 elections in Nakhchivan.
APA