OSCE Office in Baku organized a seminar on the theme "Freedom of peaceful assembly" with the participation of authority and opposition parties in "Hyatt Regency" hotel yesterday.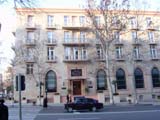 The seminar brought together Musavat, PFPA(r), ADP, Umid, Motherland Party, Social Welfare, Civil Solidarity and representatives of "Yeni Siyaset" or ("New Policy") bloc.
Representatives of the executive powers of Baku, Sumgayit, Ganja, Lenkeran, Guba and Nakhchivan, representatives of police departments of Baku and other regions also attended the seminar. Though the ruling Yeni Azerbaijan Party was not invited to the seminar OSCE invited this party to the seminar in the end. Deputy Chairman of YAP, executive secretary of the party Ali Ahmadov clarified the matter in his talk with the journalists. He stated that YAP respects and attends any event organized by all international organizations, including OSCE: "We were told that we have been invited, so we attended it".
According to A.Ahmadov the participation of representatives of the executive powers of regions and police offices turned out to be important: "They also gave information about the problems and measures taken in guaranteeing freedom of peaceful assembly in their administrative territories. The discussions held in the first part were effective and such events are helpful for normalizing the relations among the parties in common".
Stating that, the agenda was defined by OSCE, Ali Ahmadov said of the matter of foreign funding parties to be discussed in the next seminars: "We drew the attention of OSCE to this matter in the seminar and it was responded that seminar-consultations will be held on this theme too".
A.Ahmadov said that they will review the constitution of dialogue between authority and opposition parties: "I think, we shall find the way out".
Leader of Musavat Party Isa Gambar stressed the importance of holding such seminar-consultations among the parties. Stating that the topic of freedom of peaceful assembly is urgent in the period of election campaign, the party leader said that OSCE experts delivered lectures on the theme.
The participants of the seminar drew the attention of the seminar participants to the existing problems on the freedom of peaceful assembly: "Since there are discussions on the freedom of peaceful assembly of the citizens it is very important for the different bodied of the authority, especially police and local executive powers to attend the discussions. I want to hope that the authorities will take into consideration all these". The seminar was continued in the second half of the day.