The Foreign Minister of Azerbaijan Elmar Mamadayarov received on 15 July the former head of the White House administration, ex-governor of the New-Hampshire state John Sununu.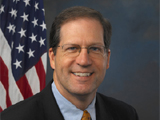 During the talk the Foreign Minister informed the guest of the high tempo of comprehensive democratic reforms in the country, noting, that cooperation between Baku and the White House must go on, keeping the White House informed of the changes, occurring in Azerbaijan.
The head of the Azerbaijan's Foreign Ministry noted, the official Baku pays a special attention to the issues of the country's educational sector reforming, as well as to implementation of measures on strengthening the population's middle class.
The sides touched upon the subject of the strategic cooperation intensification between two countries and the issues relating to the government's activities in the pre-election period.
John Sununu occupied the post of the White House administration head under the President Bush, the senior.