These photos, taken by photographer Han Meng, give us a startling look at what those who live well under the poverty line must do to ensure the safety of their children.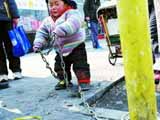 Chen Chuanliu is an unlicensed rickshaw driver in the city of Beijing who felt the most secure way to keep his two-year old son Lao Lu from being abducted is to chain him to a lamp post with a thick chain and padlock. A month prior his four-year old sister was abducted, a grim reminder of the prevalence of child abduction in China.
"My wife cannot take care of him and I have to work to support my family. So I chain him to a pole when I have a fare. I don't even have a picture of my daughter to use for a missing-person poster. I cannot lose my son as well."
Since Chuanliu is a migrant worker he is unable to receive help from the state and is thus unable to place his son in a child care facility while he works. The mother of the boy is unable to take care of him due to the fact that she is disabled and spends her days collecting trash on the side of the road.
Despite the man's unique and seemingly dangerous approach toward child care, his love for his son is evident in his refusal to accept large sums of money in exchange for giving his boy up for adoption.
It is not known if charges have been filed by authorities, who were alerted by concerned passersby. They did, however, order the man to unchain the boy immediately.
/Weird Asia News/
Click pictures to enlarge: