Another unusual case has happened in Turkey.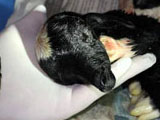 A lamb with bird's beak was born near the town of Tire near Izmir.
Jaw of one of twin lambs is smaller than usual while the other has no lower jaw.
The latter's upper lip is long that is looks like a beak.
The lamb died 10 minutes after birth. Veterinarians refer abnormal lambs to a group agnathy (agnathans).
/Ihlas/
Click to enlarge: