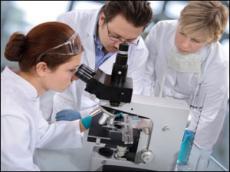 A common treatment for prostate cancer may double the risk of Alzheimer's disease, researchers reported Monday.
It's called androgen deprivation therapy, and it's aimed at lowering levels of testosterone, the "male" hormone that fuels some types of prostate cancer.
The study uses men's medical records and cannot prove that the treatment caused Alzheimer's disease in the men. But it's enough to prompt oncologists to take a closer look.
"This study doesn't definitively tell us that these drugs cause Alzheimer's disease," said the American Cancer Society's Dr. Otis Brawley. "I would say this study justifies a better study."
The study of more than 16,000 men being treated for prostate cancer showed that those who got any kind of androgen deprivation therapy had nearly twice the risk of developing Alzheimer's over the next 2 ½ years as men getting other treatments.
"We also observed a statistically significant increased risk of Alzheimer's disease with increasing duration of ADT (androgen deprivation therapy)," Dr. Kevin Nead of the University of Pennsylvania and colleagues at Stanford University wrote in their study, published in the Journal of Clinical Oncology.
Those treated for more than a year had more than twice the risk of an Alzheimer's diagnosis.
It had been rumored. Men who take ADT complain about a lot of side effects, from weight gain to mood swings, impotence and hot flashes. Many also complained about memory loss or trouble thinking.
The team looked through medical records of patients treated at Stanford and New York's Mount Sinai Hospital. This kind of study is fairly unusual, and it could take some time for researchers to decide how valid it is.
In the meantime, however, doctors might consider talking to patients about the findings when they are discussing what kind of treatment to do for prostate cancer.
Prostate cancer is the biggest cancer killer in men, after lung cancer. It's diagnosed in 240,000 U.S. men and kills about 30,000 a year.
Treatments include surgery to remove the tumor, radiation to destroy it, chemotherapy and the use of little radioactive beads to slowly shrink the tumor. But one of the oldest treatments include the drugs that interfere with the production of testosterone.
They've been used since the 1940s and are given to about 500,000 American men every year. They include drugs such as flutamide and enzalutamide, which act against testosterone, and drugs called LHRH agonists which stop production of testosterone by interfering with other hormones.
"There's a goodly proportion of men today that are taking this drug and should not be taking it," Brawley said. "We know that these drugs are harmful and we know that these drugs are overused."
The National Cancer Institute says men who get their prostates surgically removed and then take hormone-based treatments don't live any longer, but they do get more time before the cancer and its symptoms come back.
"Men who have adjuvant hormone therapy after external beam radiation therapy for prostate cancer live longer, both overall and without having a recurrence, than men who are treated with radiation therapy alone," it says.
Hormone therapy can also be used in men whose tumors cannot be surgically removed and it's sometimes used in men too sick to get surgery.
"Whether hormone therapy prolongs the survival of men who have been newly diagnosed with advanced disease but do not yet have symptoms is not clear. Moreover, because hormone therapy can have substantial side effects, some men prefer not to take hormone therapy before symptoms develop," the National Cancer Institute said.
This study may make some men think twice about ADT, especially if it wouldn't be expected to help them live any longer.
"What happens is a lot of guys are 65-70 years old and they diagnosed with localized prostate cancer," Brawley said.
They're probably have other conditions and surgery would be too risky. "They are good candidates for observation because they probably have the kind of prostate cancer that won't kill them," Brawley added.
"But they are American and …they have got to have some kind of treatment."
This study might help doctors talk them out of it, he said.
It's not clear how reducing testosterone might cause Alzheimer's. But low testosterone levels are known to be linked to Alzheimer's risk. Low levels of the female hormone estrogen are also linked to Alzheimer's risk and at least one study has shown that hormone replacement therapy can reduce the risk of Alzheimer's in women.