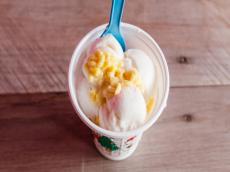 One of the most mind-numbing types of headache comes from one of the greatest desserts ever invented. By some estimates, as many as one in three people suffer from "ice cream headaches" or "brain freeze," as the phenomenon is sometimes called. While the pain associated with cold desserts has been well known for quite some time, its cause is still a subject of some debate.
It was only in 1988 that the International Headache Society formally recognised the condition
The first time "ice cream headache" appeared in print was in 1939. "But your nose and fingertips get quite numb, though, and if you don't keep rubbing your forehead, you get what we used to call an ice cream headache," wrote Rebecca Timbres' in We Didn't Ask Utopia: A Quaker Family in Soviet Russia. While it's been discussed in the medical literature since at least the 1850s, it was only in 1988 that the International Headache Society formally recognised the condition, which they referred to as "cold stimulus headache".
In the third revision of the International Classification of Headache Disorders published in 2013, an international group of headache researchers came to the consensus that ice cream headaches, which they also referred to as "cold stimulus headaches", involve pain that starts upon the application of a cold stimulus either to the head or mouth, and which then must subside shortly after the substance is removed.
While the most common location for such a headache is just behind the forehead, they can also occur closer to the ears or behind the eyes. No matter its location, an ice cream headache is almost always "intense, short-lasting, [and] stabbing." As anyone who has grappled with brain freeze can tell you, it's not a pleasant experience.
Because cold stimulus headaches are so often associated with the roof of the mouth, their scientific name is sphenopalatine ganglioneuralgia, which literally means, "nerve pain of thesphenopalatine ganglion," a bundle of nerves that transmits sensations from the top of the mouth (the palate) to the brain. It's thought that the pain comes from the dilation and constriction of blood vessels in response to a cold stimulus. Upon sensing the cold, our bodies might react by sending a bunch of warm blood to the brain as an antidote. The rapid change in blood flow might be responsible for the pain.
The connection between ice cream headaches and migraines isn't fully understood
Some early attempts to understand ice cream headaches suggested they might be a sub-type of migraines, because both involve disordered responses to sensory stimuli. The widening and narrowing of blood vessels that occurs during ice cream headaches is a pattern that could explain some migraine headaches. Others have argued that the pain of ice cream headaches is a type of "referred pain," a mysterious but well-known phenomenon in which a stimulus in one part of the body causes pain in another.
The connection between ice cream headaches and migraines isn't fully understood, though the link is commonly accepted. A2001 study conducted by neurologist Peter Mattson of Sweden's University Hospital found that women who had experienced at least one migraine within the previous year were twice as likely to develop a headache from cold water as those who were migraine-free.
Palate and brain
And in 2004, a Turkish neurologist named Macit Selekler rounded up patients who suffered either migraine headaches ortension headaches. Together with his colleagues, Selekler then administered the "ice test," which required that patients use their tongue to hold an ice cube against their palates. The test resulted in headaches for nearly 60% of his patients, and of those, more than 80% were from the migraine group.
Taiwanese neurologist Jong-Ling Fuh also discovered a similar pattern among Taiwanese adolescents. She and her colleagues administered a survey to nearly 9,000 13-to-15-year-olds. The results revealed that roughly 40% of teenagers there had experienced ice cream headaches in the past, but the prevalence was 15% higher among those students who also suffered from migraines. Fuh suspected, like other researchers before her, that the link between the two types of headaches was related to the dynamics of blood flow between the palate and the brain.
While researchers continue to probe the neurological and vascular secrets of this phenomenon, at least some things have become clearer.
One McMaster University physician discovered – when collaborating with his middle school-aged daughter and her classmates – that adolescents who were instructed to gobble up a bowl of ice cream in five seconds or less were more than twice as likely to have an ice cream headache than those students free to eat at their own pace. There is something about the rapid passage of cold stimuli over the palate that makes such headaches more likely.
It has also become clear that things other than frosty desserts and beverages can evoke the headaches

It has also become clear that things other than frosty desserts and beverages can evoke the headaches. Surfing in winter can do the trick, as British Olympic Medical Centre physician Mark Harries has learned. "In my wilder days as a winter surfer we all know about the sickening frontal headache that resulted within seconds of driving through a breaking wave," he wrote in a letter to the editor of the British Medical Journal in 1997. "The pain continued for 20 to 30 seconds, only to be reinforced by the next breaking wave."
And for one 48-year-old speed skater, breathing the air of an ice rink led to routine bouts of brain freeze. "Presumably the cold air above the ice rink, as it is inhaled through the mouth and passes over the palate, is the stimulus for this patient's pain," speculated Australian neurologist Stacey Jankelowitz in 2001. Luckily there was a fairly easy remedy: "The pain appears to persist until the stimulus is removed, that is, the patient stops skating."
Nearly 20 years ago, Joseph Hulihan of Temple Universitypointed out that those who suffer from ice cream headaches need not give up the confection entirely. Since the back end of the palate (the soft, fleshy part) is most likely to produce the pain, sufferers can simply try to limit the contact of cold foods with that area. "Most people arrive at such preventive measures without the advice of doctors," he says. "Ice cream abstinence is not indicated."