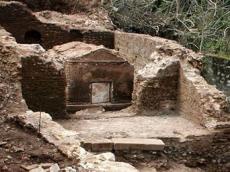 Archaeologists have unearthed a vast ancient tomb in Greece, distinguished by two sphinxes and frescoed walls and dating to 300-325 B.C., in the country's northeast Macedonian region, the government said on Tuesday.
It marks a significant discovery from the early Hellenistic era, although a Culture Ministry official said there was no evidence yet to suggest a link to Alexander the Great, who died in 323 B.C. after an unprecedented military campaign through the Middle East, Asia and northeast Africa, or his family.
The official said the Amphipolis site, situated about 100 km (65 miles) northeast of Greece's second-biggest city Thessaloniki, appeared to be the largest ancient tomb to have been discovered in Greece.
Archaeologists, who began excavating the site in 2012, expect to enter the tomb by the end of the month to determine out who was buried there.
"It looks like the tomb of a prominent Macedonian of that era," said a second culture ministry official, declining to be named. Alexander the Great died in Babylonia, in what is modern Iraq, and his actual burial place is not known.
Archaeologists have found two sphinxes, thought to have guarded its entrance, a 4.5-metre-(yard)-wide road leading into it, with walls on both sides covered by frescoes. It is circled by a 497-metre-long marble outer wall.
Experts believe a five-meter-tall lion sculpture previously discovered nearby once stood atop the tomb.
"It is certain that we stand before an especially significant finding. The land of Macedonia continues to move and surprise us, revealing its unique treasures," Prime Minister Antonis Samaras said on Tuesday during a visit to the site.

/Reuters/