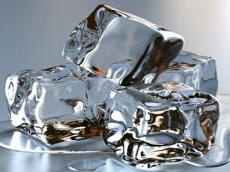 A New Jersey gastroenterologist is promoting a fiendishly simple new regimen designed to shed unwanted pounds: eating ice.
It's called, appropriately, the Ice Diet, and its creator, Dr. Brian C. Weiner, an assistant professor at Robert Wood Johnson University Hospital, developed it while he was looking to lose weight himself. So far, Weiner says, he's lost more than 50 pounds following the odd protocol.
According to Weiner's Ice Diet website, his a-ha moment happened a few years back when he decided to swap eating high-calorie ice cream for lower-calorie Italian ices. The calorie count on the flavored ices was 100 calories per six-ounce cup. But something about that number didn't sit well with Weiner.
"One evening…in a burst of insight, I realized that this was incorrect," he writes. "The manufacturer of the ices did not calculate the energy required to melt the ice, and did not deduct this from the calorie calculation."
Weiner ran the numbers himself and came to the conclusion that a six-ounce ice was a mere 72 calories (or 72 icals-his invented term for "the corrected caloric content of an ice-containing food product, adjusted for the energy required to melt the ice"). He showed his work to his engineering-student son, who confirmed that dad was on to something. Father and son then sent a letter describing their findings to the medical journal Annals of Internal Medicine, which published it. Since then, Weiner has written a free e-book outlining the Ice Diet to the public (although when we signed up for it, nothing arrived in our email box).
Basically, the entire Ice Diet depends on one premise: Frozen water is cold (think we can all agree on that one) and therefore, when ingested, the body must expend energy (i.e., burn calories) to melt it and raise it to body temperature.
How much energy? Weiner says eating a liter (32 ounces) of ice a day burns about 160 calories, which, he says, is the same amount burned by running one mile.
He recommends capping consumption at 32 ounces daily "to avoid hypothermia or unusual cooling of the body," as he told The Atlantic. He also warns, "Some organs do not work optimally when the body temperature drops too much." Another note of caution: Don't chew on big ol' cubes, which the American Dental Association warns could damage gums, tooth enamel, and even crack your chompers.
It if sounds too good to be true, it may be: While sitting on your ass munching a Super Big Gulp of ice may burn some calories, it's not a whole lot. For example, if eating 32 ounces of ice a day burns 160 calories, and you have to burn off 3,500 calories to lose a pound (as is commonly held), it's going to take about a month to lose one pound on the Ice Diet (it's not clear exactly how Weiner has dropped 50 pounds). That's not a great return on investment. So, yes, the Ice Diet might work, but you're going to have be patient-and get used to drinking a ton of ice.
If you've already gone out and purchased an extra freezer to hold your personal ice stash, never fear though, because there's another possible way to use it to lose weight: Try bathing in it.

/Yahoo/